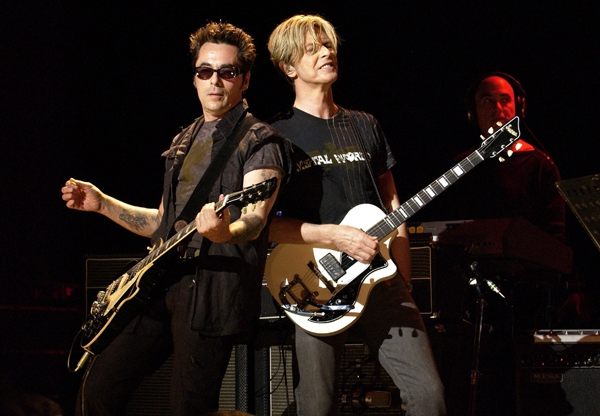 Guitarist Earl Slick Talks About New David Bowie Album
By Andy Greene
January 25, 2013 9:00 AM ET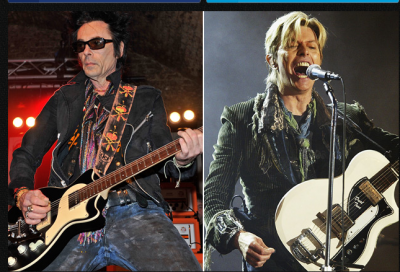 David Bowie has worked with a lot of guitarists over the decades, but he always comes back to Earl Slick. They first teamed up in 1974 for the Diamond Dogs tour. When that wrapped, Slick entered the studio with Bowie to record Young Americans and Station to Station. When Stevie Ray Vaughan walked out of the Serious Moonlight tour at the last minute, Bowie called in Slick. After a long break, Slick reunited with Bowie in the early 2000s for Heathen and Reality and their supporting tours.
Bowie called Slick into the studio last summer for to work on his comeback album, The Next Day, but until this month Slick was forbidden to tell a soul about the secret sessions. Rolling Stone spoke to Slick about the new songs, the possibility of a tour and his memories from the famously debauched Station to Station sessions in 1975.
David Bowie's 'The Next Day' Album: A Track-by-Track Preview
A few years ago, did you start to think that Bowie would never record again?
My mindset would go back and forth both ways. One thing I did know is that once you're an artist, you're an artist until the day you die. The urge is always going to be there. I was never sold on the idea that he was done. Never.
How did you first hear about this project?
I heard about it directly from David last May. We were talking on the phone and he goes, "What's your schedule like?" I said, "I'm around. What have you got in mind?" One conversation led to the other, and we scheduled to go into the studio in July.
How did that first session begin?
He had already been working on it, unbeknownst to me. He had already cut some tracks. On my first day it was myself, David, Tony Visconti and drummer Sterling Campbell. We cut some new ones. When we finished those up David played me bits and bobs from the rest of the record. He said, "Oh, what do you think about this or that?" We then picked out some songs for me to play on.
The whole thing was very casual, and it's all done as a group effort. We'll sit down and he'll play me a song and I'll say if I have a part in mind. It's a very give-and-take, very casual way of working. Sometimes he'll play me a little rough sketch on the guitar and say, "That's the idea. Now take it where you want it to go."
How many days were you there?
I was only there for a week. I did all my work in a week.
When was that?
Last week of July, or something like that. All I know is that it was hot as hell outside.
Tony says the single "Where Are We Now" sounds radically different than the rest of the album.
I don't know what the final outcome of the album is, but I know a lot of the stuff I played on was very different than the single.
Are they at all similar to the songs on Heathen or Reality? How would you describe the sound of the songs?
Oh God, I don't know if that man has ever done a record in his life that sounded like the last record he did. Think about it. You do Young Americans and then less than a year later you do Station to Station. You're talking apples and oranges. Those records, they don't even . . . it's a typical Bowie thing. It's unmistakably David Bowie, but as usual, it's unlike . . . Obviously, there's flavors from everything. You might think, "Oh, that sounds like Station to Station and that one sounds a little like Low." But there's no overall sound other than I can tell you it's just another David Bowie album that sounds different than the last one.
Do you know how many songs he used you on?
I haven't heard the album yet, but I'm gonna guess I'm on anywhere from five to seven of those. I've seen the titles these past few days, but they don't mean anything to me. They all had working titles when I was in there.
Can you describe the sound of the songs a little more?
Two of the songs sounded a little Stones-y in the same way the title track from Diamond Dogs had a very Stones-y sound, especially when we played it live. It's not a great secret that I'm a big lover of Keith Richards, so I do have a lot of that in my playing. I did do some rhythms on some of the tracks that were very reminiscent of that.
For the rest of the album, it's a touch of Bowie across the board. There's some rockers on there. I did probably hear some songs that didn't make the album, but there was one with a mid-tempo, almost an R&B feel. I can't even describe it, but it was really cool. It was almost the same tempo as "Wild Is the Wind." I played electric on it.
You've worked with Bowie a lot over the years. Was the process of this one different at all from the other albums?
It hasn't changed in 40 years. I've worked with a ton of people, and he's always the easiest. He doesn't come with a strict, "This is what it is, and you have to play these exact notes through the amp this way." Some artists do that, and that's why I rarely do sessions. I'm just too belligerent.
There's a certain magic when I sit in a room with David. That's why you'll see different guitar players working with him. He doesn't expect me to do what Adrian Belew does. He doesn't expect Adrian to do what I do, or Gerry Leonard, or vice versa. When I'm there, he needs me to do what I do best. "Here's the basic guidelines. What are the chords? Oh, I think it's in the key of G. OK, great." So we sit down, we bang around a couple of acoustic guitars sitting around some espresso and biscotti in the control room, and we just talk it through for a couple of minutes. Then I strap my guitar on and play until we both are happy with what I hit on.
The big question: Any chance you guys play live?
I knew that was the next question. That's another mystery. I mean, the band would love to do it. Obviously, we'd love to go out and do some dates. With David, and this has always been the case, he does what he's gonna do when he's gonna do it. A lot of the time it just comes from nowhere. I mean, I wasn't terribly surprised to talk to him about making another record. I wouldn't be surprised if he did call about live dates, and I wouldn't be surprised if I didn't get the call. I can tell you right now there's no touring plans that I've heard of.
Not enough people appreciated it at the time, but that last tour felt very special.
Out of every tour I've ever done in my life – and that includes David and my own tours – that, hands down, was the most fun I'd ever had. It was the best configuration of guys we'd ever had.
If he calls you tomorrow and says, "Hey, I want to go on a huge 18-month tour," what do you say?
What do you think?
I presume you'd do it.
[Laughs] Of course.
Just a random question. I've read so much about the making of Station to Station over the years – all the drugs and the all-night sessions and the general madness. Is any of it myth?
No, it's not a myth at all.
What's your memory of the single strangest moment?
The whole damn thing was strange! I mean, at the time it seemed perfectly normal to me. But in hindsight . . . I remember one night where we didn't even have the studio booked. How old was I? Christ, I was 24. It was L.A., and we were out ranting and raving every night, just having a blast. I was at the Rainbow Bar and Grill. As we used to say, I was "under the weather." Suddenly one of the roadies comes in. They search the whole place and find me at a back table. He says, "Time to go to work." I say, "It's one in the morning and I'm drunk." He says, "That's OK. David's at the studio. There's a car outside." So I paid my tab, jumped in the car and worked all night. I mean, that was not an unusual thing to happen.
David claims to be unable to recall most any of it.
Trust me, there's a lot of blank spots for me as well. I was living at the Sunset Marquis ,and it would be daylight when I got back. I'd be sitting out on my balcony drinking a beer at 10 a.m., just getting back from work.
Roy Bittan from the E Street Band was on keyboards, right?
Yes.
He always seemed so straight and professional to me. I can't imagine him in the middle of all that madness.
You know why? He's a New York boy, that's why. He's used to being around that. The first time I ever met Roy was in New York while I was working with some band called Tracks or something. I met Roy, and we became fast friends. We were doing Station and it came up that we needed a piano player. David asked everybody in the band and I said, "You know what? Bruce Springsteen and the guys are staying at my hotel. My friend Roy is in the band. Why don't I bring him down?" That's what happened with Roy.
I've always wondered how that worked for him. It was directly in the middle of the Born to Run tour. How did he have time?
I can't swear to this because I have a lot of blanks myself, but I think it was when Springsteen did two nights at the Roxy. It was the same time he was on the cover of Time and Newsweek. He was just exploding, and he was in Los Angeles for a little while. We were all at the same hotel. Again, there's a lot of blank spots, and I don't know if Roy was only in the studio for a day or two.
It's pretty amazing that the album turned out so perfectly.
I gotta tell you, out of every record I've played on, and I've played on a few records, that is still one of my favorites. As crazy as it was, and I can't specifically remember a lot, the memories I have are good. [Laughs] It makes me feel good thinking of the album, so it must have been fun.
https://www.hitmusicnews.com/wp-content/uploads/2013/01/new-david-bowie-album.jpg
416
600
admin
admin
2013-01-25 17:28:17
2014-04-23 19:27:49
Guitarist Earl Slick Talks About New David Bowie Album